FREE

3 Audio Tracks by Hilde Larsen
WHY and HOW

Emotions Keep us Sick and What to DO About It
"I have been working with Hilde for six months! Before that, I had been working on trying to restore my health and vitality for over 7 years, ever since I retired from active Chiropractic practice at 62.
I had worked with 3 other nutritional coaches, tried numerous diets and procedures and had spent over $500 a month on "designer supplements". I had spent a lot of time and money going to doctors and alternative healers with no results.
Hilde lovingly took me by the hand and gently but firmly pulled me out of my deep darkness, depression and despair. She not only told me what I needed to eat but she helped me work through some very painful emotions that became such a big part of my daily life for a while.
Through Hilde's care, and guidance, I was able to continue on the healing path I had chosen. Our biweekly talks were truly life savers when I was drowning. She gave me support in getting thru the painful emotions that continued to surface. About a month ago, I made a huge break thru and started feeling better than I have felt in a long time physically and emotionally, and that feeling continues. I have learned tools to help me welcome the emotions and restore myself back to inner peace and harmony.
I was feeling hopeless and depressed I cannot recommend Hilde enough. She is amazing, and she truly walks her walk. Working with Hilde is the best investment I have ever made in my health and happiness."
"THE PASSIONATE ENTHUSIASTIC HEALTHY LIFE YOU DESERVE AND DESIRE. THE SUPPORT, KNOWLEDGE AND MINDSET YOU NEED!"
Health And Mindset Coaching
WHEN you are ready to do what needs to be done to not only feel better, but to completely change your life for the better, I am the coach for you. I work with those who are Say: "YES, I want to step up and change my life for REAL!" I am focused on results, BIG time, and want to make sure that YOU are also.
When you know that you are ready to get your health and power back, like I did, do not wait a single minute, contact me! I have seen countless clients go from surviving to thriving. We have walked from despair to passion and enthusiasm. Together.
I am the one you meet that are over the top excited and Inspired about what they do. Writing books, teaching and guiding people like you is a part of my mission, and by serving I feel complete. I have a burning passion for life and the power we all hold within. I see myself as an inspirational way-shower and motivator, and through my experience and my education, I guide amazing souls like YOU go from surviving to thriving. In short, I am the tree-hugging life-enthusiast that makes sure you achieve your health and life goals. Cutting all the crap, getting to the point.
I am the one that never felt good enough, and that suffered for years with chronic illness and anxiety. Was the strong one who believed that success was the same as overachieving. My love for life and my passion for sharing my knowledge fuels me every day. Through my books, coaching, speaking and radio appearances, my passion comes to life. By seeing how peoples lives change, MY life changes. I feel blessed.
I have felt like crap, so SICK I would rather die than live another day. I have been hopeless and helpless and everything in between. Diagnosed with severe Rheumatoid arthritis and Lyme disease to mention a few, I thought my life was over. I went through hell, but I never gave up. I took back my power. Now, I am committed to YOU and your absolute success. I will inspire you to take charge of YOU, it is my true passion and mission. If you want to love life and beyond, we are a great match.
I want you to have what I have. I want you to have the passionate and enthusiastic life you desire and deserve. I don't care where you are right now.
We set goals, AND we take action. Signing up for the program that is perfect for YOU is a must, but FIRST, we need an initial one-on-one consultation. It is the first action step on your journey to healthy and joyful. You deserve to live the life of your dreams, and you CAN! I have seen miracles, and hard work pays off every single time.
Every time I see people suffer, in pain, hopeless or just down right depressed about life, I wish I could help. Every minute of the day holds the potential for change, and every little change holds a miracle on its path. When you show up, I have the tools and the experience. Together we will be unstoppable. Let me help you brother and sister. We are always a team.
WHEN you are ready to feel amazing, WE NEED TO TALK!
I am so fortunate to have worked with Hilde for more than 6 months! I was beside myself with pain and not knowing where to turn. And there she was--guiding me on a beautiful journey toward health. Her experience, wisdom, love, patience, commitment and guidance have paved the way for me feeling better than I have in years. I loved how loving she was and I never felt like I was a bother---because I'm a BIG question asker. She always answered and helped me to gain the clarity I've been looking for.
The burning pain in my head/Brain is gone! My swollen eyelids and fingers have gone back to normal! I feel awake with no more lethargy. I am so excited! Everything is easier now that I feel amazing!
I trust Hilde more than anyone. I recommend her over anyone!
Please click the button below to Book a 15-Min Free Coaching Session
The single most important thing for me on my journey to health has been my one-on-one consultation with Hilde, who is not just an excellent coach but above all a warm soul with a powerful intuition. It really got me fired up, and I would recommend it to anyone looking to better their life and health. Thank you Hilde!
Initial Health And Evaluation Package
Connect with me for a one-on-one initial consultation. I am eager to get to know the real, amazing, fabulous, healthy, strong, enthusiastic, crazy YOU! When your Health is not Optimal, nothing runs smoothly. Believe me, I know. Hello pain, goodbye enthusiasm. Let`s get together and make sure you get on your way to your amazing healthy successful life. You are so worth it. I am all about cutting the crap, revealing the underlying cause, the why, so we can get to the what and the how!
WHAT YOU GET:
A complete evaluation of your Health History.
An in-depth 60 minute Skype session with me.
A complete personal protocol.
A reading of your eyes.
Full intuitive guidance and supportive report.
WHAT I NEED FROM YOU:
Fill in the online health history form and upload photos of your eyes / full body via the link found in your confirmation email after purchase. Once this is received, I will personally reach out to you and set an appointment.
YOUR health and success is serious business, and I take it very seriously. I am ready when you are.
Follow-Up Empowering Session
Need to check in and keep yourself accountable? This is for you who have already had the initial consultation, and want to stay on top of your game.
No man is an island, and I get that. We are all in this together, this journey called life. When your path crosses mine, I know it`s for a grand reason. I want to make sure you get the support you need, WHEN you need it. Make sure you stay on track, and keep achieving amazing results. Health is wealth!
When you need to talk, ask me questions, pick my brain about what is going on, this is for you.
Upon successful purchase, Hilde will personally reach out to you and set an appointment.
The 3 Month "Your Healthiest Life" Program
Do you have a deep desire to live a healthy and happy abundant life? If you are ready to step up and heal your life, this program is for you. I went through what I perceived as Hell, so sick I would rather die. I not only lived to tell my story, I am here to make sure you have all the tools and the support you need to claim your own amazing health. I want YOU to feel fantastic and empowered. Believe me, health is so much bigger than we might think. Your new level of energy and health will blow your mind!
YOUR CUSTOMIZED HEALTH SUCCESS PLAN:
Physical and emotional Health History analysis.
I evaluate your eyes, to find underlying issues.
We do two private, 60 minute calls/sessions per month.
Inspirational and empowering support and guidance. YOU deserve this!
Email support the week we do not talk.
Personal ongoing healing protocol that we change as YOU heal!
Free online Video program.
Free recipes and downloads.
Upon successful purchase, Hilde will personally reach out to you and set the first appointment.
The 3 Month "Cut the Crap Mindset Strategy" Program
Do you know what you want, but you can't seem to get there? Or you work hard, only to see less results, leaving you frustrated and lost? What led me back to my amazing powerful dream life was my mindset. My ability to not only act, but to follow through. Let me teach you how to access that within yourself. You will be unstoppable! By getting to the core of what is holding us back, we are inviting in the powerful enthusiastic and passionate live we all deserve and want. Say good bye to self-sabotage and false beliefs. Say hello to FREEDOM!
Let me give you the tools you need to break free, so that you can thrive in all areas of your life. Let's cut the crap and get real. Authenticity is Gold. We will find YOURS!
YOUR CUSTOMIZED MINDSET SUCCESS PLAN:
Physical and emotional Health History analysis.
Two private, 60 minute calls/sessions pr. month.
Analyzing and empowering support.
Personal challenges.
Free downloads and processes.
Links and educational handouts. You will always have something to watch and read.
Upon successful purchase, Hilde will personally reach out to you and set an appointment.
Hilde's Signature 24-Week Healing Program
Are you looking for a way to feel amazing, but don't know where to start? I totally get it. In the jungle of information and directions, it is hard to know what to do when. I spent 11 years studying, and I finally put together a package that will take you from A to B, from start to finish. A 24-Week follow-up program that will give you guidance every single week. THIS Method really works. All of my personal tricks are included.
We will work on kidney filtration, moving your lymph, healing the gut, liver health, mental and emotional health, how to stay on a healing diet, juicing, and much more.
I don't care if you are suffering from mild headaches and rashes, or if you are facing more challenging health imbalances, – If you are depressed or feel emotionally unstable. This program is designed to embrace every level of your health.
When you are ready to commit, this is for you. 24-Weeks is the time it will take to take you through every aspect of your health. Effortlessly, WITH the support you deserve.
THE 24-WEEK PROGRAM INCLUDES:
1 Initial Physical and emotional Health History analysis.
1 initial Iridology session and analysis. (Personal reading of eyes).
12 private, 30-minute calls/sessions.
E-Mail follow up every week.
A Step-By-Step Guidance-plan.
Upon successful purchase, Hilde will personally reach out to you and set an appointment for the initial consultation. All you have to do is to lean back and receive, follow the plan and experience how your health elevates and changes for the better
What you can expect from me:
I will give you my full attention, support and encouragement all the way. My education and experience has made me confident that WE GOT THIS! All of my knowledge and experience is available to you.
What I expect from you:
For you to be enthusiastic about the program and eager to feel amazing! You simply need to be ready to do the work. You need to be committed to the results you deserve.
Not sure which program is for you?
My father used always say to me, "What is natural is wonderful" and there is a great price for every pill you take". I was always drawn to natural products and foods that had no additives, pesticides or preservatives. However, I did not know the full truth. The FULL and REAL truth came when I met Hilde on her YouTube channel. My health had gradually started to decline as I got older when various illnesses started to appear e.g. high blood Pressure, fibrocystic disease, signs of arthritis, fibroids, psoriasis etc. I very reluctantly took the medication the doctors prescribed but I also knew this was not the answer I was looking for in the long term. I knew that something was really not right so I went on my search. Through Hilde I began to understand the real reason behind my illnesses and most importantly how to correct the underlying weaknesses causing them.

After my initial consultation with Hilde, all my questions were answered, and I knew what I needed to do to get my health back. It made total sense to me. I am now on a path to wellness, without any medication. I am forever grateful. Thank you Hilde!
"When you need me, I will be there. When you feel insecure, I will reassure you. When you have questions, I will do my best to answer them. This is what I wish I had access to when I needed it the most. Someone's insight and experience.  To be able to get the help I needed, WHEN I needed it. We are not all the same. We have different needs. My focus is to meet yours."
Hilde is a shining light in two ways: she shines with a strong light from her amazing health AND she will shine the light for those who desire radiant, vibrant health. She has special knowledge on health, detoxification and nutrition- and it's her life mission to live it and share it. I think that what sets Hilde apart from other leaders in the health world is that she is very present, always there for her group and she has the best information and advice. Smart and to the point. You get a real connection with her and she is very supportive and positive. In other words, she's the kind of guide you want!

I started with a Skype session. Just amazing how her knowledge of iridology helped me have a clear picture of what was going on inside my body! Hilde is so positive that I felt positive about it too, even thou I have a lot of work to do.

A couple days later I received a detailed 'map' of the road to I need to take to get amazing health. The core of the 3 months program was a diet, herbal protocol, notes for me especially, and other tips, like a parasite cleanse program. Wow, did my whole life change for the much better quickly!
You will get exactly what you pay for and deserve: SUCCESS!
This is where suffering ends! I mean, this is where the rest of your life starts, like it was meant to be. Through a step-by-step plan we will restore and rebuild your health and life! Get ready to rock! Life is too short to not be your absolute best. This is YOUR time to shine! Let us go get it!
Let me guide you and inspired you!
I have gone from the lowest low to the highest high, 
AND I WANT YOU TO DO THE SAME!
 I KNOW what sick feels like. I know what needs to be done to regain health and vitality. I was so sick, I could not move for several years. Now, I have a burning passion for life and the power we all hold within. I see myself as an inspirational motivator, and through my experience and my education,
 I HELP PEOPLE GO FROM SURVIVING TO THRIVING
. My goal is to contribute to raise awareness around health and joyful living. My love for life and my passion for sharing my knowledge is what fuels me every day. Through proper detoxification, strengthening of weaknesses, alkalization and regeneration, 
WE CAN DO THIS!
It does not matter how you feel today, in time you WILL get your health back. Everything starts with a thought, a desire, a passion, and a PLAN. Let me show you every step of the way. Set yourself free from medical based thinking and feel empowered by the ability to choose. Nature is perfect, and so are we. Only by trying to improve on it do we get into trouble.
FEEL THE BEST THAT YOU CAN FEEL AND BE THE BEST THAT YOU CAN BE.
YOUR HEALTH IS IN YOUR OWN HANDS, AND THAT CAN FEEL LIKE A BURDEN, OR IT CAN FEEL LIKE THE TRUE FREEDOM THAT IT IS.
When I first meet Hilde, I was desperate. Nothing I did seem to work. Years of huge stress, losses of loved ones, and dealing with grief and life`s many challenges, had taken its toll. I started having severe physical symptoms also, like diabetes, weight gain, severe muscle pain and insomnia.

Even if I was a certified Diet Coach myself, my own knowledge no longer worked for me, and my body no longer responded to anything I tried. Especially not the advice of eating less and exercising more. Things just got worse. I ended up more fatigued, stressed, with constant flu and colds.

I could barely make it true the day. I didn`t function at all, and both my job and private life suffered. It felt like I had lost control of everything. Physical I felt like a wreck, and emotionally I felt like someone had grabbed me by the hair keeping me locked in this rollercoaster. Everything became overwhelming and I could no longer relax without experiencing anxiety or start crying.

I had no energy to take care of myself, not my appearance, not my health. I no longer knew the woman in the mirror.

So, when I signed up for Hilde's Coaching program, I was a mess. Completely. Still, I refused to give up, and my mindset would never agree on all the diagnoses given to me. I decided to start to work with Hilde because she had accomplished something that doctors said was impossible. She had lived through severe dis-ease, in a way seen as impossible and THAT was the approach and angle I wanted to take. I wanted to learn about what she had done and I just wanted to let that knowledge be my guideline.

As a coach, Hilde is one in a million. Really!

As Hilde put me on her protocol, my body started to react almost immediately. It started to respond again. The blood sugar came down within perfect range, and I had no symptoms at all of Diabetes type 2.

All tests were fine. The muscle pain got better and finally disappeared, and the weight melted away like butter during sun-shine. My skin was glowing and I had tons of energy! The journey was bumpy at times, but with Hilde's guidance, I felt loved and supported. I needed to go through detoxification, but even THAT felt like freedom.

The results were amazing!

I have worked with many coaches and teachers through the years, but this kind of dedication and wisdom is very rare. Every step on the way, she was there for me, holding my hand, guiding me with her deep knowledge. Not only from education but also from her true experience from going through everything herself.

Nothing can replace this kind of knowledge. Combined with all of her education and studies, Hilde has knowledge that goes way beyond what you usually find in a practitioner and teacher. No topic and no roadblock were a problem for her. Instead, she handled everything with the same dedication, passion and eager to help, no matter what it was.

Thank you, Hilde, for being my guiding star and for becoming such a dear friend. You are changing the world for so many. I am grateful that I was able to stop this running train to Hell-Ville I was sitting on, and instead change my journey to Well-Ville.

Thank you, Hilde, thanks for all that you do. You are changing lives!

With love.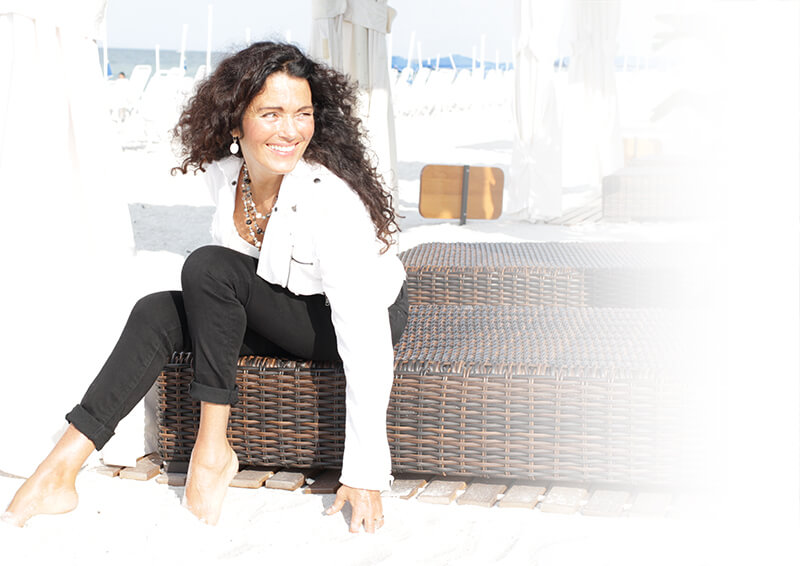 Author, Health & Mindset Coach, and Detox Specialist
I am the one you meet that are over the top excited and Inspired about what they do. Writing books is part of my mission, and by serving I feel complete. I have a burning passion for life and the power we all hold within. I see myself as an inspirational way-shower and motivator, and through my experience and my education, I guide amazing souls like YOU go from surviving to thriving.